Our Four Guiding Principles
Everyone involved with the Sino-USA Next Generation Foundation will be volunteerss, without any form of remuneration or allowances.

Any travel expenses incurred on behalf of the Foundation will be supplied by the individual volunteer.

All aid will be delivered directly from the Foundation to the recipient.

All donations will be used for scholarship funds or capital expenses.
With your help, we can unlock the potential of millions.
News and Events
First Annual ForNextGen Picnic raises over $3500
May 25, 2010
Held on May 25th, 2010, our summer picnic and culinary competition drew over 200 attendees and representatives from over 20 local associations. to Jones Bridge Park. Over 50 dishes were submitted to the cooking competition, and boy did our judges have a hard time crowning the Master Chef of Atlanta Chinese Cuisine.
Read More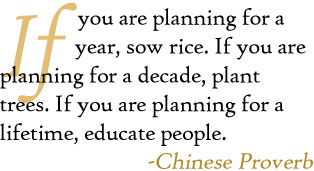 Supporting the needy, wherever they are
April 28, 2010
On April 26th, 2010, Dr. Wang Li Shan of Marietta, Georgia drove to Branford, Connecticut and viciously murdered Dr. Vajinder Toor. Although he awaits trial for the destruction of one family, he has also ruined another: his own. His wife, Lan Man, has been diagnosed with breast cancer and is currently unemployed, leaving their three children with little economic support. As fellow Chinese-Americans, we understand how difficult it is to establish ourselves in a new country. We strongly condemn Wang Li Shan's actions. But we equally condemn the impossible situation left to his family, and we hold that we should support the needy, wherever they are---in rural China, or in our own backyards.
Read More